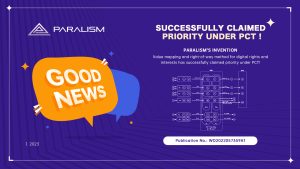 Dear partners and communities,
We are pleased to announce that our invention, " Value mapping and right-of-way method for digital rights and interests" (Publication No.: CN112085606A) has successfully claimed priority under the Patent Cooperation Treaty (PCT) (Publication No.: WO2022057359A1) and we have now filed for a United States patent(to USPTO) and wait to be granted.
For a market that is purely transactional and based on centralized transactions,In the process of asset issuance, exercise of rights and interests, and price formation, there are still a lot of manual processes and matching behaviors. With the development of blockchain technology, a wider range of rights and asset types have emerged which are quite different from those traditional centralized forms, such as cryptocurrencies, NFTs or DAO governance rights. For those decentralized scenarios, manual processes are considered to be a violation of the rules. However, this patent provides an efficient and automated solution for the governance of web3.0 and DAO.
The application includes but is not limited to the following scenarios:
Digital treatment-free scheme for option and stock right
Autonomous operation of online communities
Entrepreneurial project self-service investment and financing
Dao automated governance
Our invention and PCT priority are not only a recognition of our engineers and R&D team, but also a commitment to our company's continuous pursuit of excellence and innovation. We will continue to devote ourselves to the innovation of parallel blockchain technology and product development, providing better products and services for our clients and community.
We look forward to sharing more updates with you as we continue to develop and innovate in this exciting field. Thank you for your ongoing trust and support.
Hyperchain team
Annex:  Part of Hyperchain's core patents (granted)
Name of Patent
Patent No. #
(US, EU, CN, PCT)
Role
A METHOD FOR GENERATING AND MAINTAINING RELIABLE DATA IN NETWORK ENVIRONMENT (Applied 2016, Granted 2019)
CN201610326235.9 (CN)

US10949563B2(US)

EP3460706A4(EU)

The fundamental of theoretical framework of parallel blockchain
A METHOD FOR ACCUMULATING AND CO-ASSEMBLIING UNIFORM DATA  (Applied 2016, Granted 2018)
ZL201610686127.2 (CN)

US10735415B2(US)

EP3503495A4(EU)

Parallel blockchain consensus algorithm
A METHOD FOR PARALLEL MAINTENANCE OF DATA CONSISTENCY (Applied 2016, Granted 2019)
ZL201610537425.5(CN)

US11036760B2(US)

EP3483749A4(EU)

The key data structure of  parallel blockchain
A METHOD AND A SYSTEM FOR STRATEGY-BASED DIGITAL ASSET TRADING
CN201610685435.3(CN)
WO2018032762A1(PCT)
protect and realize hybrid rights by blockchain
VALUE MAPPING AND EXERCISE METHOD FOR DIGITAL RIGHTS
CN202010982713.8(CN)
WO2022057359A1(PCT)
The basic structure of DAO equity
A METHOD FOR PROTECTING CONSISTENCY OF DATA ACCUMULATED BASED ON CRYPTOGRAPHY DIFFICULTY
CN201910111220.4(CN)
Protecting anti attack data structure of parallel blockchain